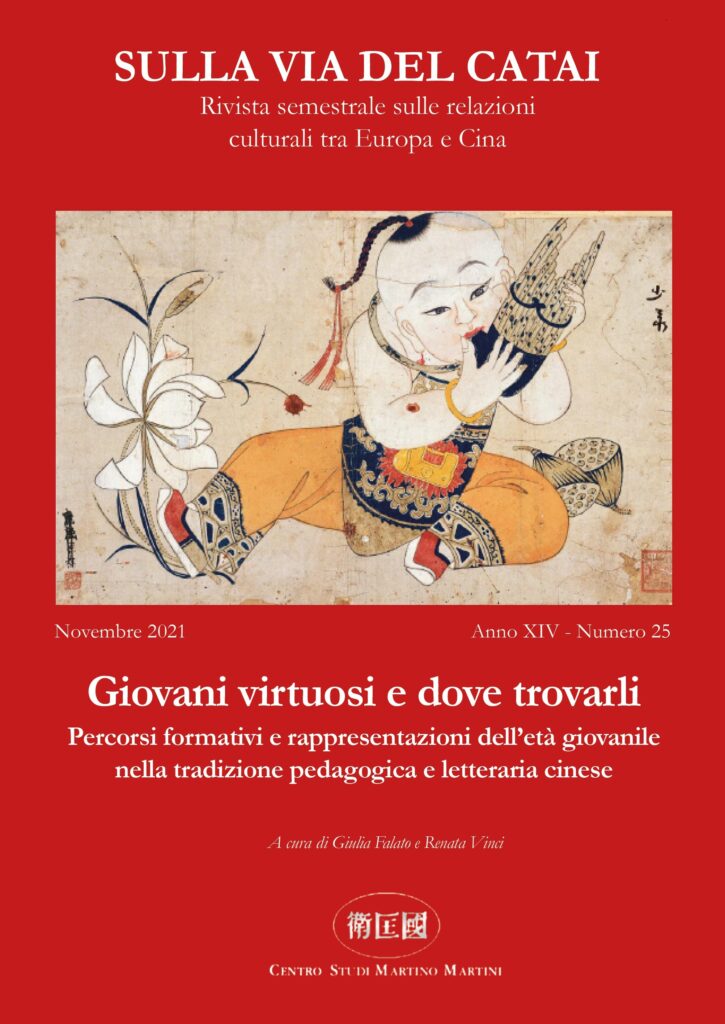 Virtuous Youngsters and Where to Find Them:
Education and Representations of Young People
in Chinese Pedagogical Tradition and Literature
Giulia Falato, Renata Vinci (ed.)
Sulla Via del Catai, vol. 14, n. 25, 2021
(Italian and English)
Giulia FALATO (University of Oxford), SPAZI, RUOLI E PRECETTI DELL'ISTRUZIONE GIOVANILE NELLA CINA DEL PRIMO PERIODO IMPERIALE (Spaces, roles and precepts of youth education in early imperial China)
During the Western Han (206 BC–9 AD) theories on children's education were codified and gender-specific roles were defined. These were essential for the creation of an ideal Confucian society and the social expectations towards the younger generations. The purpose of this paper is to re-examine spaces, agents and practices of children education, alongside the doctrinal innovations introduced by prominent Han thinkers, in order to understand their role in preserving social harmony.
---
Laura LETTERE (Università degli Studi di Napoli "L'Orientale"), L'INFANZIA COME DISCORSO CONTROCULTURALE: DAL MAHĀPARINIRVĀṆASŪTRA AL CHAN (Childhood as a counter-cultural discourse: from the Mahāparinirvāṇasūtra to Chan)
In the Confucian tradition, children are mostly represented as enfant-prodiges, while Daoists idealized children as a symbol of submission and compliance. In the fourth century A.D., the translation of the Mahāparinirvāṇasūtra as Da banniepan jing 大般涅槃經 (T374) introduced a radically new description of childhood, by means of a controversial comparison between the achievements of the Buddha and the behavior of a newborn child. The counter-cultural value of this comparison is demonstrated in this study through an analysis of the very different interpretations of this passage by Zhiyi 智顗 (538–597) and the main commentaries from the Chan tradition.
---
Elisa FREI (Goethe Universität Frankfurt – Boston College), LA GIOVENTÙ NELLA CINA DI DANIELLO BARTOLI (1663) (Youth in the China of Daniello Bartoli – 1663)
Daniello Bartoli (1608–1685) was commissioned to write the history of the first century of his order, the Society of Jesus. In the section dedicated to China (1663), the Italian writer describes the missionary endeavour in the Empire, taking advantage of edited and unedited Jesuit sources. This article explores Bartoli's analysis and judgement of the Chinese youth, first focusing on some of its characteristics, and then showing the respectively 'bad' and 'good' outcomes of non-Jesuit and Jesuit education.
---
Elizabeth SMITHROSSER (International Institute for Asian Studies, Leiden), UN-LEARNING THE STRATAGEMS: QING PEDAGOGICAL EFFORTS AGAINST POISONOUS WARRING STATES LEGACIES
This contribution explores the efforts Confucian pedagogue of the Qing-era Lu Longqi 陸 隴 其 (1630–1692) in "purifying" the collection Han Zhanguo ce 戰 國策 (Warring States Stratagems), who, according to him, risked to corrupt the youth of his time. In order to to allow impressionable young people to "taste the taste without being affected by his poison ", Lu and his collaborators drafted an elaborate publication which contrasted the actions of the men of the Warring States period (475–221 BC) with those of their most virtuous contemporary, Mencius.
---
Tay Wei Leong (Independent scholar), BUILDING A HEAVENLY KINGDOM ON EARTH: A STUDY ON TAIPING PRIMERS
During their government (1850–64), Taiping promulgated three texts for children: Ode for Youth (Youxue shi 幼學詩), Trimetrical Classic (Sanzijing 三字經), and Imperially Composed Thousand Char- acter Edict (Yuzhi qianzi zhao 御製 千字詔), this was intended more for propaganda-religious purposes than as a support for language learning. This article traces their origins in the appropriation by Protestants of traditional Chinese pedagogical techniques for conversion purposes and highlights the theological, soteriological and historical perspectives of the Taiping leaders, who combined elements of Chinese culture with vernacular Protestant literature.
---
Renata VINCI (University of Palermo), TEORIE E PRATICHE PER UN'EDUCAZIONE MODERNA DEI GIOVANI NELLA STAMPA PER RAGAZZI TRA XIX E XX SECOLO (Theories and practices for a modern education of young people in children's press between the nineteenth and twentieth centuries)
That images could support texts to reach all sorts of readers, including children, was a key topic of Chinese public discourse in the modern press. In 1897 Liang Qichao also emphasized how entertaining pedagogical methods (such as songs and games) were essential to the reform of the Chinese education system and development of a modern nation. Presenting some early Chinese children's magazines, this paper illustrates how they combined modern printing techniques and expressive modes to perform theories and practices on education circulating in China at the turn of the century.
---
Ornella DE NIGRIS (Sapienza University of Rome), L'UMANESIMO NELLA RAPPRESENTAZIONE DEI BAMBINI DI FENG ZIKAI (Humanism in the representation of children by Feng Zikai)
Feng Zikai 豐子愷 (1898- 1975) was a prolific painter, essayist, educator and translator, who is commonly considered the father of manhua (comics) in China. His work's main subject was childhood: the concept of 'childlike innocence' can be seen across his work since the 1920s when his comics were first published in the periodical press. Starting from a selection of comics produced between 1927 and 1929, this work aims to investigate how this intellectual represented childhood and to which extent his representations can be considered innova- tive with respect to the Chinese artistic tradition, in which childhood was a much-appreciated pictorial subject.